Profile

What?
You think this is my first day?
Free Account
Created on 2011-07-29 01:49:30 (#942795), last updated 2012-01-03 (298 weeks ago)
2,050 comments received, 2,042 comments posted
378 Journal Entries, 132 Tags, 0 Memories, 184 Icons

About
| | |
| --- | --- |
| Name: | Elle Bishop |
| Birthdate: | Aug 22 |
| | |
| | |

Mini Bio
E L L E ‡ B I S H O P
"What? You think this is my first day?" - Cautionary Tales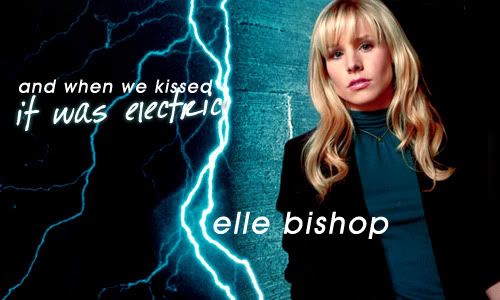 Elle Bishop is a dangerous girl, the term sociopath with paranoid delusions puts it mildly. Enhanced with the ability to generate electricity within her body and use it as a weapon, Elle spent most of her life under the care of her father Robert Bishop. Spending most of her youth undergoing testing, to further her abilities, she has formed her own method of coping with everything that she has endured, in the guise of a rather innocent care free girl. Slightly chaotic, yet perky, bubbly and easily excitable; Elle has no real basis for the difference between right and wrong. With her moral compass exceptionally skewed, she follows the lead of others easily, and hopes to benefit from anything that she participates in.



Bete Noire
A Broken Vessel
Take a Step Back
Live This Life || One Small Choice
Swallow the Lies
Way for me to Bleed




Truth is the ultimate reason
Lying is why this begins
Run from the words of deceivers
The danger is spread from within
Watching the hour glass empty
Scream as time's running out
There's no more room for excuses
there's no rhyme or reason to doubt.
Hold out your arms
Be ready to take all that's coming
Shock treatment - You won't feel the pain
Shock treatment - You'll cry out in pain
Give up your heart
You won't feel the pain
Shock treatment
They'll do it to you again and again and again
Cover your fear with a blanket
Don't let them know that it's rage
Be on your guard what you say now
It may haunt you the rest of your days
Faces around you are gloating
The pain disappears in a haze
Hold onto what's left of your mind now...
The switches are set on erase

I am not Elle Bishop. Elle is not even a real person. All the stuff you read in here is fictional. I don't profit from this at all. Tim Kring does because he owns it all. I don't know KBell, nor am I her. I don't make any claim to own any of this, and until Kring calls me up and says "Hey You! That's not what happened to Elle!" I'm going to take a few creative liberties here and there, to flesh her out a bit, and see what I can do with her.
All fake. All the time. No profit. No suing. All fun. All Sparks.

[Elle Bishop's Journal Default Setting is Explicit Content.]

People
[View Entries]

[livejournal.com]
abbytude
,
achingformore
,
ambitious-woman
,
and-dontgetcute
,
and-herflowers
,
anightngalesang
,
artiejackson
,
becomesa-lorax
,
bestdamnxman
,
borrowedpower
,
capableof-both
,
capturedworlds
,
cast-abigshadow
,
changehistory
,
chasemd
,
couldbenicer
,
crusades-r-us
,
daughterof-evil
,
distortedcanvas
,
dr-luka-kovac
,
elementof-risk
,
enjoythe-ride
,
eternityticking
,
findaconstant
,
fullonobiwan
,
genetic-fate
,
gnib
,
gonnatakeit-all
,
hasperkynipples
,
heroslayer
,
hofficoffi
,
hornrimmed
,
humanmapquest
,
icouldtellyouto
,
im-ashark
,
im-notlikethem
,
imalways-right
,
imnot-likeyou
,
its-myturn
,
its-notluck
,
itsjustbob
,
john-movinon
,
jstliketherifle
,
lethaligneous
,
luthor-legacy
,
magistrated
,
morty-toad
,
mutha-flippin
,
not-a-savage
,
not-myfirstday
,
notso-average
,
onemanbrigade
,
osborn-heir
,
osborn
,
ourslutty-yoda
,
powered-otaku
,
rude-not-ginger
,
shaman-x
,
shapeshftr-grl
,
sounds-eternal
,
speedster-girl
,
starsmore-jono
,
susan-who
,
tearhiseyesout
,
tech-deficient
,
teleparkman
,
tempestof-fate
,
thatsortofpower
,
the-power-boy
,
thecheerleader
,
thentheres-me
,
vondoomed
,
yearsguilt

Communities
[View entries]

Member Of (3):

Subscriptions (5):

Administrator Of (2):

Feeds
[View Entries]

Subscriptions (0)

Linking
To link to this user, copy this code:
On Dreamwidth:
Elsewhere: